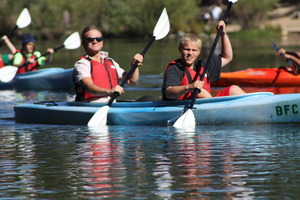 Come have an unforgettable summer experience!
1 week options are perfect for the first time camper. We also offer 2 & 3 weeks or more...
Shuttle is availabe for summer camp. Check out our web site www.wasewagan.com for
summer dates and details.
Exciting activities offered: Archery, Riflery, High Ropes Course, Swimming, Fencing, Fishing,
Zipline Adventure, Horseback Riding through the mountains of Big Bear, Scavenger Hunt,
Hiking, Campfire & S'mores, Mountain Biking, Canoeing at Jenks Lake and much more!!!
Also, great for Spring and Fall Retreats for Scouts and other groups. Come have an
awseome adventure!!!
Please let us know if you would like a brochure mailed/emailed to you or a friend, . We offer personal tours
just about every weekend, call or send us an email for more information or to schedule.
Call us at (805) 498-5572 or email us at crazzycraig@earthlink.net or check the web site www.wasewagan.com.

Looking forward to seeing you this summer!
Crazzy Craig